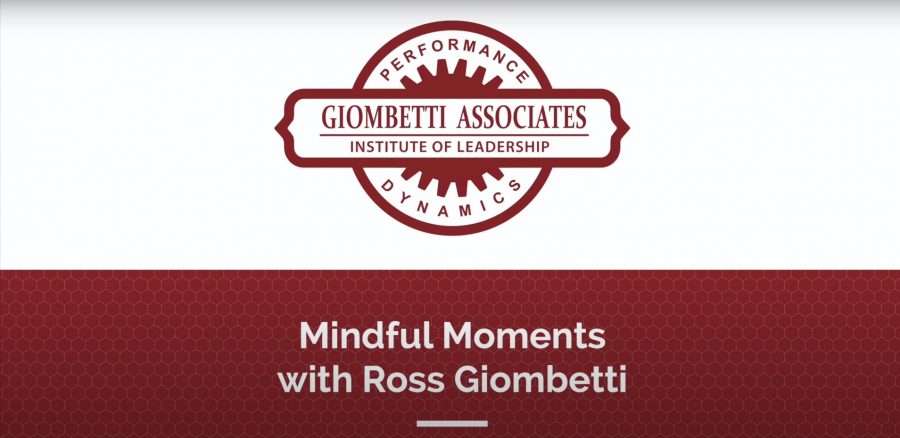 Welcome to Mindful Moments
Welcome to Mindful Moments, a video series in which Ross Giombetti and other members of our team share quick tips, inspirational thoughts and reflections designed to help you improve your soft skills and create a better version of yourself. Designed for all management styles, these short videos can give a quick lift to your interpersonal skills, both for professional development and personal development.
We hope you find these Mindful Moments videos useful and look forward to your feedback. Visit our Learning Lab for more resources to help you polish your leadership skills.
Take Over Personalities: If you have a big personality, you may find yourself jumping into situations to course correct, robbing someone else of a learning opportunity.
People Overload: Are you an ambivert, toggling between an introvert and an extrovert? Ross explains why this can be confusing for others and what you can do to make it easier.
Do What Makes You Happy: Ross shares a personal reflection about how doing what you love and what makes you happy can lead to greater motivation, focus and fulfillment.
Importance of Doing One Thing: It's easy to get caught up in tackling too many priorities at once, but dividing your focus can result in less than ideal results. The same is true when working on your personal or professional growth.
Pride of Authorship: Even the best ideas get shot down sometimes, which can be frustrating. But don't let your emotional response and pride of ownership get in the way of forging ahead with new ideas.
Offering Encouragement: There's an art to offering encouragement that's authentic and helpful. Amanda offers tips to help.
How to Say Thank You: Saying thank you is polite, but to delivery kudos in a truly impactful way, make it personal and specific.
The Energy You Carry: The energy you carry into your day, and home at the end of the day, affects your relationships and interactions.
No Quick Answers: Interviewing for a job is not like winning a game show. Learn why it pays to pause and think about your answers.
Receiving Feedback: Even if you disagree with feedback you receive, Ross explains how it provides an opportunity for growth.
The 100 Zero Principle: Learn how putting 100% into a relationship, and expecting nothing in return, can result in a big payoff.